HPD32 Duplex , HPD40 Duplex and HPD50 Duplex – Highly efficient redundant electric motors
The motors of the Duplex series are electric aero-motors, which can almost perfectly meet the ideal of failsafe power. Two mechanically and electrically completely separate individual motors work without gears on a propeller shaft, so that if there is a fault in one powertrain, the aircraft can continue its flight as normal.
The two individual motors are based on the worldwide proven HPD aero-motors. There are thus failsafe electric motors that are available for the whole UL class with sustained ratings of 32/40/50kW and peak power up to 40/60/70kW.
The HPD32 D and HPD40 D weighs approx. 12kg and can be built extremely compactly even into aerodynamically slim fuselages. The HPD50 D is a little longer and weighs approx. 16kg. An all-through hollow shaft or alternatively an integrated setting servo motor allows the use of adjustable propellers, which means that even very fast aircraft can use the effective electric power.
Features
Redundancy mechanically and electrically
Two complete motors in one housing
Patented, completely independent operation of the two part system
High power density and compactness – Power 32/16 kW cont. – 40/20 kW peak with 12 kg weight
Based on proven HPDx motor range
Continuous communication HMI <->; battery <-> Power inverter -> High availability regulation by linked self-test routine and cascaded regulation and safety processes
MC300 – Powerful Four-quadrant motor controller
Tailored to our motors, Geiger Engineering presents a new generation of motor controllers, which offer a range of functions specially for manned electric flight not available up to now on the market.
Features
High power density at low voltage level 60VDC (PELV) 300 A cont. – 600 A for 30 s
Robust and modular construction
Integrated functions specific for flight applications:

Adjustable airscrew control via airscrew characteristics
Airscrew positioning, electronic cams
Integrated release switching, Quick stop functions (parachute emergency stop, Virtual Coach etc.)
Reversing as use as airbrake or for manoeuvring.
Cycle frequency management, and motor, battery and inverter temperature management to maintain availability if limit values are exceeded.
Integrated automatic self-test functions of battery, inverter and motor before each start

Master-Slave operation of two PI300 modules possible to extend power to 600 A cont. / 1200 A for 30 s and to increase availability
Full four-quadrant operation (Recuperation, Traction)
Universal interfaces (Encoder, Hall sensors, RS485, RS232, analogue and digital activation)
ADI – Advanced Drive Interface
After a development phase of one year, we present our new Interface System, the Advanced Drive Interface.
The Advanced Drive Interface is a motor display instrument, a motor control interface, a recording system (Blackbox), an autopilot system and a replacement flight instrument. The ADI has a pressure sensor, an accelerometer, a GPS and a real-time clock built in. An extensive range of data is displayed via the sunlight readable, high-resolution touch panel.
Of particular importance here are the range display, the Speed over Ground, the altimeter with variometer and the power in connection with the revolution speed and climb values. Amongst other things, the flight style can be optimised with the dynamic range display or transfer this function to thye integrated autopilot.
CO2-neutral airfield Friesener Warte
In autumn 2013, the conversion of the airfield at Friesener Warte to renewable energy generation and use.
You can find more details of the concept in the complete presentation. You can also read the interesting press release on the subject:
Presentation of the concept
Press release of 21.10.2013
The LSV-Friesener Warte on the way to becoming a CO2-neutral airfield
The LSV is breaking new ground and taking the first steps towards use of renewable energy for operating electric aircraft and the airfield.
The new photovoltaic array was opened on Sunday, 27.10.2013, in the hangar – a milestone in realising the new idea of a CO2-neutrally operated airfield. Friesener Warte is in the natural park of the Franconian Switzerland and has unspoiled natural surroundings which must be protected. It is therefore also a popular visitor destination in the region. So the application of the hobby pilot Joachim Geiger and Dr. Ing. Werner Eck, to also allow aircraft with electric power to fly from the glider airfield was met with great enthusiasm. The two new club members are pioneers in this area and have been developing electric motors for light aircraft over the last 7 years, which are today being used in many aircraft worldwide. Together with the LSV, they hope that the Friesener Warte airfield will develop as a centre for electrically-powered sport aircraft, in order to give the club a push towards environmentally-friendly sport flying.
Electric flying has been possible for about 7 years at an affordable cost. Electric motors, instead of a petrol engine, allows much lower flight noise and significantly safer, cleaner and lower-maintenance technology. Primarily in the area of sport flying, these are significant advantages which can offer new angles to this sport.
After years of development work, countless hours in the workshop , discussions with the authorities and test flights by lots of electric pioneers under the leadership of Joachim Geiger and Werner Eck, there are today many aircraft close to serial production in the weight range up to about 320kg take-off weight being used around the world.
The principle thing needed for electric flight is a sufficiently light and powerful battery and extremely light and powerful electric motors. Basic cells for such batteries have been available affordably for about 10 years. The associated electric motors with their demanding electronic regulation, the propellers and the batteries specially designed for flying can be purchased today via partner companies of Geiger Engineering (Bamberg).
Flight with electrically-powered aircraft is a special pleasure for every pilot and the observer on the ground are amazed at how quiet and problem-free an electric flight can be. In most cases, electrically powered aircraft are used where relatively short motor run times of up to 2 hours are sufficient, as is primarily the case in sport flying. the development of electric storage technology here offers new possibilities.
Electrically powered aircraft have been in use since early 2013 at Friesener Warte. Since the glider airfield has no connection to the national grid for charging flight batteries, a virtue was made of necessity and a new kind of battery-storage photovoltaic equipment was installed, which makes enough electricity available around the clock. The installation is specially designed for the demands of electric flying and electricity supply for all auxiliary operations at the airfield in the flying season.
With parallel wiring and energy recovery de-coupling of the solar panels, the installation is not as sensitive to partial shade of individual modules as is the case for conventionally wired PV arrays. The hangars on the Friesener Warte are strongly shaded by trees at certain times of the day. The low voltage levels resulting from that < 66V has other advantages. On the one hand it is a safety advantage: This voltage is not dangerous to people or animals; on the other hand, charging systems for flight batteries that also have this voltage work up to 98% effectively. The usual wasteful way of transforming the solar direct voltage to mains alternating voltage and then back to battery direct voltage is not necessary here.
A three-phase inverter with 12kW durable power makes direct voltage of 400V and 230V alternating current as is used domestically from the direct current coming from the solar modules. The appliance is equipped with a lead battery storage with 18kWh energy content, so that there is also enough energy for the alternating current network.
The entire installation is very cheap compared to domestic battery storage currently on the market through the use of the most recent solar modules, charging and inverters and cheaper lead battery technology. As there are no connection costs for linking to the public mains, and electricity is "free" from now on, electricity can be used very cheaply at Friesener Warte.
The necessary number of charging or discharging cycles of the lead batteries is many times lower in a season's operation of a sports airfield than for a household. Therefore we are assuming a lifetime of 10 years with approx. 400 complete cycles. After that, the phased-out flight batteries could still be of service in the storage bank for the network.
The planning of the appliance and the installation was carried out by Joachim Geiger with his engineering company based in Bamberg, Geiger Engineering, together with the company specialising in PV arrays, SMS. The company Lightway Deutschland also sponsored the solar panels fitted to two hangar roofs with a peak power of about 13kW. The complete appliance is worth about 30.000€; this does not include the considerable payments by the club itself. The community project could therefore be completed within a very short time.
Thus the preconditions are in place at Friesener Warte to operate sport flying exclusively with solar energy. Gliders have always used the sun as the source of thermals, but it is now possible to get airborne without petrol-driven winches or tow-planes.
It is also very nice for the club that there is always electricity at the airfield for the infrastructure. Using electric light, making coffee, refrigerator and water pumps and webcam and alarm systems , using electric tools and much more is now possible. Visitors can now even charge up their e-bikes with the external charging points installed specifically for this.
The diesel unit, upon which the airfield temporarily depended for its electricity supply, can now be dispensed with.
With visible pride, the installation was opened by Frau Romana Gensel, deputy mayor of Hirschaid, and Herr Zhen Wie, Director of Lightway Deutschland, immediately lighting up the lights in the "Ballroom". Frau Gensel praised the courage of the LSV in treading a new path and taking a great step in the right direction.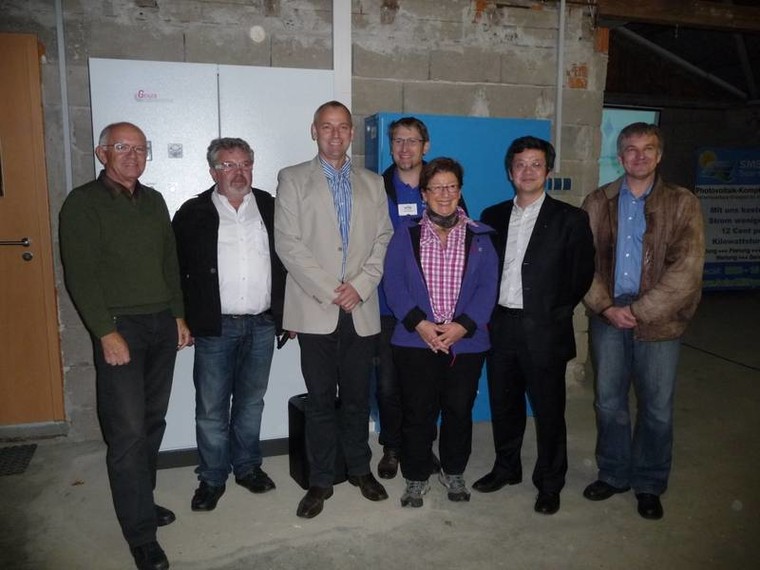 The commissioning of the PV appliance was rounded of by informative presentations by all those involved. after completion of the trial operation in May 2014, the installation will be officially transferred to a wider context, including the presentation of electrically powered aircraft, to which the public is invited.
"Friesener Warte airfield is to develop into a centre for electrically powered aircraft.